Ballet West is proud to present "Romeo and Juliet", Shakespeare's enduring tale of passion, murder and tragedy in medieval Verona danced to Prokovief's emotional score.
This production toured China in 2011 and is being reworked by the same artistic team that created Ballet West's recent productions of The Nutcracker and Swan Lake. Shows will take place throughout Scotland in January and February 2015, culminating in a Valentine's showing at the Armadillo in Glasgow.
The principal roles of the star-crossed lovers will be danced by brother and sister team Sara-Maria and Jonathan Barton.
Watch the trailer below for a sneak peek!

Valentine's Day Special!
SECC Clyde Auditorium Glasgow  | 14th February 2015
Buy 10 tickets, get another 1 free!*
Treat your loved ones to a perfect Valentine's day gift with this offer.
On Valentine's Day 2015, Ballet West is proud to present "Romeo and Juliet" in the SECC Clyde Auditorium, Glasgow. This romantic ballet sets Shakespeare's enduring tale of forbidden love, passion and tragedy to Prokofiev's emotional score and is a perfect night out for star-crossed lovers of all ages!
To book call 0844 395 4000 or visit the SECC Box Office.
*Subject to availability. Offer can only be redeemed by calling 0844 395 4000 or in person at the SECC Box Office. Offer not available online. For every 10 tickets purchased, the 11th ticket will be free.
Romeo & Juliet T-Shirts Now Available 
Black Long Sleeved T-Shirts are available to order or purchase at the Show Venues  - ALL SIZES : £12 plus £2.50 P&P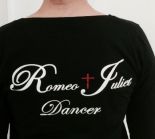 Please email your order to Ballet West at balletwest@btconnect.com .
On confirmation of your order you can make payment using our secure payment facility on our web site at: http://www.balletwest.co.uk/make_payment